Day trippers in Brighton
Brighton is a pretty amazing place. But you knew that though, didn't you? 
Eight million people visit Brighton every year. Six and a half million of them are day trippers There is 1 drinking establishment for every 320 people. And Brighton & Hove has over 1,400 licensed premises. (Facts from welovebrighton.com)
Not bad for a little fishing village!
More than that, Brighton has the fourth-best city beach in the world, according to the CNN Travel website. And that makes us better than Barcelona, Miami, and Jumeirah in Dubai! (Brighton and Hove Independent)
Gateway to Brighton's North Laine 
Trafalgar Street is home to The Point and many, many other amazing independent businesses. If you live outside Brighton and Hove and visit by train, to do a spot of Christmas shopping in the North Laine, the best way to get there is via Trafalgar Street.
Also, if you use the train when you visit The Point, you'll avoid paying expensive parking charges. (You could even afford a glass of wine with the change?!)
Fun fact: Trafalgar Street is so long it has 5 postcodes!
Trafalgar Street Traders' Association
The Point is super pleased to be part of a new plan to form a Trafalgar Street Traders' Association.
The traders' association wants to raise money and support to increase the profile and footfall of Trafalgar Street. It already is the gateway to the North Laine. Now, we want it to become the official gateway to the North Laine from the railway station.
Tunnel of love
Excitingly, the tunnel running under the station onto Trafalgar Street is due to be renovated, too. It'll be relit, brightened up, and some of the arches will become home to small new retail units. This will raise the profile of the wonderful Toy and Model Museum.  We believe that this will make it an even better doorway to one of the most diverse shopping streets in the city. 
We'll update you on the progress of this as it happens!
Come and see us this winter
In the meantime, we can't wait to welcome you into our cosy Trafalgar Street salon for your festive hair appointment. You will be offered a glass of bubbles in December (or a seasonal cup of Bird and Blend tea if that's more your 'bag'). And while you're here, have a look at all our neighbours' gorgeous shops. Their Christmas window displays alone are amazing! (Check out Sirene's window – it's always amazing!)
If you're looking for some new threads you can visit:
Sirene Boutique
All About Audrey
Mad Hatters and Friends
If you fancy a spot of vinyl you can do no worse than:
The Wax Factor
Hungry?
Mange Tout
Real Patisserie
Blend & Brew
Coffee @33
Toasted by GB Charcuterie
Milk No Sugar
North Laine Café
Bread and Milk
The Lucky Star
Thirsty?
Raw Lab
The Lord Nelson
The Prince Albert
The Great Eastern
The Prince George
Looking for pressies?
Oliver's Brighton
Adaptatrap
Bluebelle and Co.
Sirene
Neoma
Want an interesting time?
Brighton Toy and Model Museum
Paint Pots Brighton
And that's only half the story! Pop along and have a browse – it's amazing how many shops and wonderful places there are to stop by!
For your next hair booking at The Point, call us or make an appointment here at our website! See you on Trafalgar Street soon! x
Terms, conditions, info!
Hair is everything. We wish it wasn't so we could actually think about something else occasionally. But it is. It's the difference between a good day and a bad day… Hair is everything.

Fleabag, BBC, Series 2
National Hair Day competition with Brighton's best loved hairdresser!
Today, 1st October is National Hair Day. (A bit like our Christmas Day.) So, we're celebrating by launching our special competition!
Because hair IS everything, we want to make one lucky winner and their friend feel special with a free cut each, a £50 voucher each towards a hair colour, and bottle of bubbles for two to share!
Get pampered like the flippin' special person you are – and your friend too!
Here's how to be in with a chance of winning:
Like and follow The Point on Instagram or Facebook
Tag the friend who you would like to join you for your pamper appointment, on Instagram or Facebook
That's it – good luck!
If you win, you and your friend will receive:
A fabulous, free of charge, new hair cut each
A £50 voucher towards a hair colour service on the same day each
A bottle of bubbles for two to share
Good luck!
Terms and conditions
One winner prize of a haircut each for you and a friend, a £50 hair colour voucher each for you and a friend, and bottle of bubbles for two to share
Prize available with our selected stylist, Holly
Prize available to claim during off-peak periods only (so not between Monday 29th November and 31st December)
Prize valid until 1st March 2022
You and your friend need to arrange to come in together for your appointment
Colour and cut must be taken on the same day
Entries must be made between the opening and closing dates to be in with a chance of winning (1st October – 8th October 2021)
If you follow us/ tag a friend on both Instagram and Facebook, only one entry per person will be counted
The winner will be chosen at random after they have followed The Point on Instagram or Facebook and tagged a friend.
The winner will be informed of their prize via private message on the platform they entered, and asked for their contact details and postal address
To claim any prize awarded, winners must respond to The Promoter in line with The Promoter's instructions within 72 hours of being contacted.
In the event a claim for a prize is not received by The Promoter within 72 hours, The Promoter reserves the right to withdraw prize entitlement and the prize will be forfeited and a reserve winner will be contacted.
All of the winner's contact details will be removed from The Point database after issue of prizes, as per our privacy policy.
No purchase is necessary to enter the competition.
Entrants agree to their image(s) being shared to The Point's social media pages – posts and/ or stories
Other terms and conditions
The Promoter will not accept responsibility for prize draw entries that are lost, mislaid, damaged or delayed in transit, regardless of cause, for example as a result of any equipment failure, technical malfunction, systems, satellite, network, server, computer hardware or software failure of any kind.
By submitting a prize draw entry, you are agreeing to be bound by these terms and conditions.
The decision of The Promoter is final and no correspondence or discussion will be entered into.
The prize may not be claimed by a third party on the winner's or runners up behalf.
There is no cash alternative for this prize.
This competition is in no way sponsored, endorsed or administered by, or associated with Instagram or Facebook
Autumn is here!
It's now officially autumn, and this is also a great time to tell you all about our sustainable journey as an organic hairdresser.
In this post, we want to highlight two important campaigns that are running this month. You might want to get involved in them yourself!
And then we'll tell you all about how at The Point we're doing our bit, every day.
Recycling week by WRAP
Recycle Week is funded by DEFRA (amongst other organisations) and is Recycle Now's flagship annual event. Recycle Now is part of an organisation called WRAP (Waste & Resources Action Programme).
RW a celebration of recycling in the UK. Basically, it encourages retailers, brands, waste management companies, trade associations, governments, and the media to unite in one goal: to excite everyone into "recycling more of the right things, more often".
This year's theme: 'Step It Up this Recycle Week'
We're all doing our best, but at The Point we believe we can always step it up and do a little bit more! And that's this year's Recycle Week theme. Awesome.
The second September event tackles climate change, diet related ill-health, and the extensive decline in wildlife. Organic September is a campaign to help raise awareness of the many benefits of organic food and farming.
The campaign's strongest emphasis is on food, but The Point believes that organic hairdressers – hell, organic everything – can only be a good thing!
The Point's journey to better sustainability
Like you, we're on a sustainable journey. That means we see our efforts as ongoing and improvable.
Here are a few of the things we do at the salon to help reduce our impact on our little planet. We:
recycle your hair (see below for how!) 
use compostable towels 
recycle the tin foil used for colouring hair
recycle all paper used in the salon
use organic products as much as we can (we're hoping to only use 100% organic one day)
recycle/repurpose PPE, waste colour, and chemicals (no chemicals down the sink, except what's rinsed off when shampooing).
Keeping the miles low
To keep the mileage low, we like to use local companies where possible, to help us with these efforts where we can. They include:
As well as amazing national companies like:
Green Salon Collective (of which we're a proud member)
BOOM!
A lot of the time, longer hair can be donated to make wigs. (In fact, we collect longer hair and send it to The Little Princess Trust, who make wigs and hair pieces for young cancer sufferers or young people experiencing hair loss for other reasons.)
But what about shorter hair?
Every time you visit the salon – whether you have long or short hair – we recycle your hair in a very exciting way. 
Thanks to Green Salon Collective, your hair helps the global effort to reduce oil from our seas.
How? With amazing things called 'booms'.
Green Salon Collective describe hair booms like this:
"Essentially, a hair boom is hair cuttings of any length or colour tightly packed into cotton or nylon tubes. When placed in either water or on the shores of beaches, these booms will stop oil from spreading, saving wildlife and the natural landscape."
How amazing is that?
We also offer anyone to take their own hair cuttings home for composting!
We're all in this together
There's one final thing that can make a huge difference: transport. We're so close to Brighton station and bus links, that you can easily take public transport to get to us. Not only does that reduce the carbon footprint of your haircut, you can avoid the expense of parking your car in Brighton!
Join our mission!
And we don't want it to stop there. We're continually finding ways to step up our mission. We want to be able to cut and colour your hair with minimal impact on the earth.
If you have any questions or ideas for us, we'd love to hear them!
Also, we'd love to hear your ideas about reusing, recycling, and repurposing.
So, if you want to get your hair cut or styled at an organic hairdresser that actively minimises their impact on the earth, book online here! 
The Point lives in the heart of the North Laine, Brighton, and is a stone's throw from Brighton Railway Station. That makes us perfect even if you live further afield, in places such as Worthing, Littlehampton, Hove, Shoreham, Hassocks, Burgess Hill, Newhaven, even London, Croydon, or Crawley. 
The Point is an LGBTQ+ and Trans-Friendly salon, charging gender neutral prices. Have a look at what we do.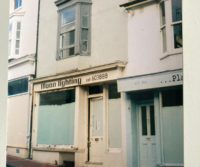 By Ian Habben, Salon Director at The Point
Goin' back to my roots, yeah
Way back in 1981 I was a newly qualified hairdresser, moving to Brighton with no idea what the future held.
What a great time to arrive in a new city! Things were starting to get more angular, but there was still a ruffled collar here, and a pussybow there. Shoulder pads were coming into their own. And there were serious concerns about the damage to the Ozone layer, with the amount of lacquer being sprayed.
What you looked like mattered because you were showing people what tribe you belonged to. It showed what you stood for and what message you wanted to convey.
I was young, and a bit green around the gills. But as a creative person, Brighton seemed like the best place for me! My own hair style was a cross between a Rockabilly/Pet Shop Boy and a member of Depeche Mode. Sleek and full of curls on top (not much hair spray involved!).
Power Cuts
I worked for a while in a salon as a stylist. Then, in 1985, the first of many 'bite-the-bullet' moments, I set up my first hair salon: Power Cuts, at the top of Gloucester Road, Brighton. It was like having my first child. I loved it! We had a great team and I wanted to protect it more than I realised was possible. Setting up your own business is like showing your true colours to the world and asking people to love you for it. Plus hand over their money in the process.
So, I was devastated when the salon folded in 1988. We had achieved so much in three years, pushing creative boundaries to the limits. I came to realise that I had opened Power Cuts with very little business acumen. I needed to learn and mature more in my industry, so I headed back up to London to reflect. I made a resolute decision never to open my own salon again. Too painful. However, after 18 months, I started to miss Brighton. It's weirdness, its buzz, it's culture and its open-armed community.
I can change…
I came back to Brighton in 1991, ready to 'be different'. I kept my solemn vow never to open a hair salon again and was a freelancer working between London and Brighton. I worked hard and loved living back by the sea.
Pee or get off the pot
I always keep one eagle eye out for any new, exciting opportunities when they show themselves. One of those opportunities was to convert the toilets at the foot of The Pepper Pot, on Queen's Park Road in Hanover, Brighton into a salon – bonkers as that might sound!
I had the drawings done and everything but, alas, that didn't work out. Imagine if you'd ended up being a customer of a hairdressers that used to be a public loo, though. I wonder where we would have washed your hair?
The Point
Then one odd day, when I was visiting a wholesaler on Gloucester Road, Brighton, I saw an old, empty building with hardly any floorboards. It was on the corner of Vine Street and Gloucester Road (now called YAK, a delightful wool shop). I wanted it. And, after several conversations with the right people, in 1998, The Point was born.
I loved our 5 years in Gloucester Road. It's a great spot, not far from the famous Basketmakers Arms and close to the North Laine, the sea, and Brighton station. It took a while, but we built a team, and my hard work was paying off. So much so, that my landlord decided to double my rent because I'd made such a great success of the business!
A bit miffed with the rent proposal, I was in need of a fresh start. It turned out that two of my clients had a shop next to one another on Trafalgar Street (called Moonlighting and Plan B) and they were both planning on closing. I couldn't pass up on this unique opportunity. So, when I signed the lease on their properties, I got permission to knock the two together and in February 2003, The Point as you know it today, was created and opened.
I expanded upstairs in 2005, opening our treatment and colour room. My dream had got bigger. I was so proud of what we'd achieved, and it felt fantastic!
Dream team
Along the way I worked with some very, very important people. I started in 1998, with just one apprentice, also called Ian (he stayed for 30 days).
I recruited some amazing stylists, Pascal, Nick, Caro, and eventually Annita, who began with me as an apprentice. Justine, Tania, Maggie, and Holly later joined me on Trafalgar Street.
Pascal went on to open his own salon in 2012, after working with me for 12 great years. It was bittersweet. As an ambitious stylist myself, I can of course understand why any stylist would want to open their own place and to 'chase their dream'. The tricky bit for me, of course, was that I now had new competition on Trafalgar Street and a fresh challenge to rise to. Never easy, but in the end, always so vital.
NKOTB
When you own any business, but especially a hair salon, you need to be open to adapting, changing, accepting new competition, and seeing the New Kids on The Block appear on the scene. (And sometimes go again.)
It could be tempting to rest on your laurels. But, if you really know your 'why', have a real passion for the thing you started in the first place and continue to stay creative, innovation is the only thing that will be your key to success.
Showing your roots = not always bad
And, as we all know, 2020 threw up its own challenges, making all of us innovate like hell. What started out as a normal year ended with several periods of closure, not to mention the worry about the country's health, wellbeing, and economic situation. As a team, we always held onto our passion for creativity, and pushed on through. The pandemic may not be over. But we are so grateful that we're still here: open for business, dedicated, passionate about our craft, COVID safe, and ready to do your hair.
We are proud to serve and delight customers from all over: from right here in Brighton and Hove, and as far as London, Yorkshire, and Australia! We love seeing our closer neighbours from Croydon, Crawley, Worthing, Portslade, Shoreham, Henfield, Kemptown, Peacehaven, and Newhaven.
I cannot stress how important it is to never give up on your dreams. No matter how big or small. By remembering your roots and core principles, what starts as your dream can always become a reality.
You can check out some more photos of Ian back in the day at our Instagram page. 
For your next booking, call us or make an appointment here at our website.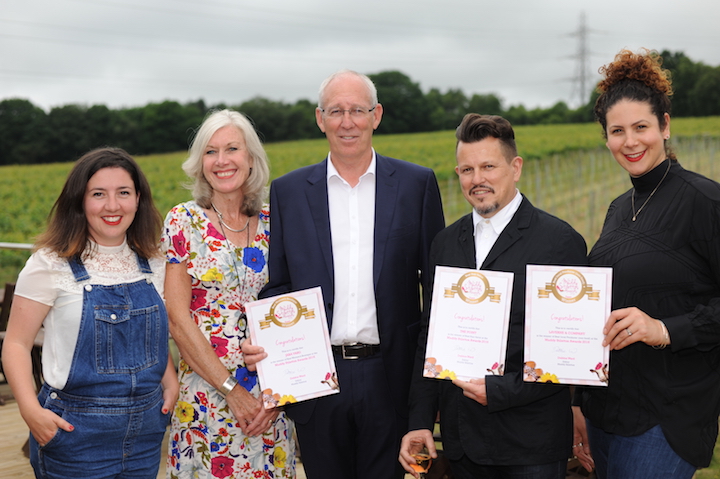 As well as receiving lots of wonderful reviews and testimonials from our lovely clients, The Point are also award winners.
We are delighted to announce that we won the Muddy Stilettos Award for best local hair salon 2016.
It was a real honour to be chosen and we would like to say a huge thank you to everyone who supported us and to Muddy Stilettos for putting on such an enjoyable event.

Welcome to our long awaited, and much anticipated new website.
We've worked hard to create a site that reflects who we are and what we do, and we love how it's turned out. We hope you do too.
The site certainly looks great, and it definitely reflects our unique style and character, but it's designed to be practical too. As well as helping you find out more about our services and staff, you can now book your appointments quickly and easily using our fantastic online booking system.
And now we offer much more than a great cut and colour. Ellie Jordan, our on-site manicurist, can now tend to your fingers or toes as well as your hair. Why not book to have a manicure or pedicure whilst waiting for your colour to develop, or before or after your hair appointment? For a limited time only, receive 10% off any beauty treatments when you book them alongside your hair cut or colour.
Please look around the site and take time to tell us what you think. Get in touch via the contact form or you can leave a review about The Point on Google or via Facebook or Twitter. And finally, a reminder of our discounts… If you're an existing client and you recommend a friend, you'll receive 10% off your next hair cut, plus, to thank you for your loyalty we will now automatically give 10% off every clients' 4th hair cut or blow dry. We look forward to seeing you soon.