Summer '16 is here and we're hoping to spend our days on the beach and our nights at the bar. Summer is good for the soul, but is not always so good for the hair. The excess of sun, salt and chlorine can leave your hair dry, damaged and increasingly fades your colour.
Achieving the perfect sun kissed look is not easy, nor is getting those beachy waves while maintaining healthy hair. So we put together some top tips from our stylists to find out how to keep those split ends at bay.
Enjoy the texture?
Your hair dries faster when the weather is warmer, so if you can, take the opportunity to not blow dry. Leave your hair to dry naturally, using a combination of Windle and Moodie's Curl Enhancer and the Invisible Day and Night Cream. Maybe even use a diffusor to reduce the stress on your hair and create that 'just off the beach' look. Excessive blow drying and straightening can damage your hair, so cut down in the warm weather.
Braids are best
If you enjoy the outdoor life and need to keep long hair back while you exercise this summer, try braiding your hair instead of putting your hair in a pony tail. Hair can break around incorrect hair bands when you tie it in a pony tail and it is too tight. Plaiting or braiding your hair is not only far more secure when you are out for a jog, but you can also create a fun, individual look.
Remove your split ends now!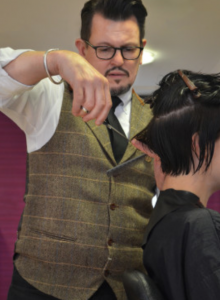 Check your ends and if they are showing signs of damage pop along to see your hair stylist for a trim and protein rich deep conditioning treatment. Split ends travel up the length of the hair faster than your hair will grow, so do not leave them unattended! This may result in you ending up needing more taken off than you'd planned for.
Fake the salt
If you are trying to achieve the 'been to the beach' look, you don't have to get your hair wet in the damaging sea water to achieve it. The Point use Windle & Moodie's Oceanic Spray and Texture Cream to create that sun and sea natural texture. The minerals in the spray recreate the ocean look, without the drying damage of the salt from the sea
Keep conditioning
Summer is not a time you can slack on conditioning your hair. Your hair will lose moisture from being exposed to the sun and sea. Make sure you apply a good quality conditioner to your hair every time you wash it to give it the moisture it needs to stay healthy and shiny. Adding some W & M Essential Oils Elixir in to your deep conditioning treatment, either at home or in salon, will maintain the moisture balance in your hair.
If you follow these tips, you can have fun and look amazing all summer long.