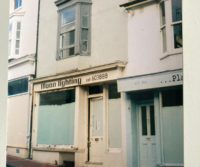 By Ian Habben, Salon Director at The Point
Goin' back to my roots, yeah
Way back in 1981 I was a newly qualified hairdresser, moving to Brighton with no idea what the future held.
What a great time to arrive in a new city! Things were starting to get more angular, but there was still a ruffled collar here, and a pussybow there. Shoulder pads were coming into their own. And there were serious concerns about the damage to the Ozone layer, with the amount of lacquer being sprayed.
What you looked like mattered because you were showing people what tribe you belonged to. It showed what you stood for and what message you wanted to convey.
I was young, and a bit green around the gills. But as a creative person, Brighton seemed like the best place for me! My own hair style was a cross between a Rockabilly/Pet Shop Boy and a member of Depeche Mode. Sleek and full of curls on top (not much hair spray involved!).
Power Cuts
I worked for a while in a salon as a stylist. Then, in 1985, the first of many 'bite-the-bullet' moments, I set up my first hair salon: Power Cuts, at the top of Gloucester Road, Brighton. It was like having my first child. I loved it! We had a great team and I wanted to protect it more than I realised was possible. Setting up your own business is like showing your true colours to the world and asking people to love you for it. Plus hand over their money in the process.
So, I was devastated when the salon folded in 1988. We had achieved so much in three years, pushing creative boundaries to the limits. I came to realise that I had opened Power Cuts with very little business acumen. I needed to learn and mature more in my industry, so I headed back up to London to reflect. I made a resolute decision never to open my own salon again. Too painful. However, after 18 months, I started to miss Brighton. It's weirdness, its buzz, it's culture and its open-armed community.
I can change…
I came back to Brighton in 1991, ready to 'be different'. I kept my solemn vow never to open a hair salon again and was a freelancer working between London and Brighton. I worked hard and loved living back by the sea.
Pee or get off the pot
I always keep one eagle eye out for any new, exciting opportunities when they show themselves. One of those opportunities was to convert the toilets at the foot of The Pepper Pot, on Queen's Park Road in Hanover, Brighton into a salon – bonkers as that might sound!
I had the drawings done and everything but, alas, that didn't work out. Imagine if you'd ended up being a customer of a hairdressers that used to be a public loo, though. I wonder where we would have washed your hair?
The Point
Then one odd day, when I was visiting a wholesaler on Gloucester Road, Brighton, I saw an old, empty building with hardly any floorboards. It was on the corner of Vine Street and Gloucester Road (now called YAK, a delightful wool shop). I wanted it. And, after several conversations with the right people, in 1998, The Point was born.
I loved our 5 years in Gloucester Road. It's a great spot, not far from the famous Basketmakers Arms and close to the North Laine, the sea, and Brighton station. It took a while, but we built a team, and my hard work was paying off. So much so, that my landlord decided to double my rent because I'd made such a great success of the business!
A bit miffed with the rent proposal, I was in need of a fresh start. It turned out that two of my clients had a shop next to one another on Trafalgar Street (called Moonlighting and Plan B) and they were both planning on closing. I couldn't pass up on this unique opportunity. So, when I signed the lease on their properties, I got permission to knock the two together and in February 2003, The Point as you know it today, was created and opened.
I expanded upstairs in 2005, opening our treatment and colour room. My dream had got bigger. I was so proud of what we'd achieved, and it felt fantastic!
Dream team
Along the way I worked with some very, very important people. I started in 1998, with just one apprentice, also called Ian (he stayed for 30 days).
I recruited some amazing stylists, Pascal, Nick, Caro, and eventually Annita, who began with me as an apprentice. Justine, Tania, Maggie, and Holly later joined me on Trafalgar Street.
Pascal went on to open his own salon in 2012, after working with me for 12 great years. It was bittersweet. As an ambitious stylist myself, I can of course understand why any stylist would want to open their own place and to 'chase their dream'. The tricky bit for me, of course, was that I now had new competition on Trafalgar Street and a fresh challenge to rise to. Never easy, but in the end, always so vital.
NKOTB
When you own any business, but especially a hair salon, you need to be open to adapting, changing, accepting new competition, and seeing the New Kids on The Block appear on the scene. (And sometimes go again.)
It could be tempting to rest on your laurels. But, if you really know your 'why', have a real passion for the thing you started in the first place and continue to stay creative, innovation is the only thing that will be your key to success.
Showing your roots = not always bad
And, as we all know, 2020 threw up its own challenges, making all of us innovate like hell. What started out as a normal year ended with several periods of closure, not to mention the worry about the country's health, wellbeing, and economic situation. As a team, we always held onto our passion for creativity, and pushed on through. The pandemic may not be over. But we are so grateful that we're still here: open for business, dedicated, passionate about our craft, COVID safe, and ready to do your hair.
We are proud to serve and delight customers from all over: from right here in Brighton and Hove, and as far as London, Yorkshire, and Australia! We love seeing our closer neighbours from Croydon, Crawley, Worthing, Portslade, Shoreham, Henfield, Kemptown, Peacehaven, and Newhaven.
I cannot stress how important it is to never give up on your dreams. No matter how big or small. By remembering your roots and core principles, what starts as your dream can always become a reality.
You can check out some more photos of Ian back in the day at our Instagram page. 
For your next booking, call us or make an appointment here at our website.