The Point team cares deeply about the quality of your experience when visiting us, and wish you to leave looking and feeling fantastic! We also care deeply about our planet, and collaborate with the Green Salon Collective, who recycle or repurpose all waste products that we produce in our working day
However, to ensure that your experience with us runs smoothly, there are a few policies and guidelines that we'd like you to be mindful of when making your booking………….
You can move or cancel your booking with us, up to 24 hours prior to your appointment. However, if you cancel after this time, or do not show up for your booking, you will be charged 50% of the total value of your appointment.
A skin sensitivity test is required at least 48 hours prior to any first time colour service. This is also necessary for anyone who hasn't had any colour service in the last 6 months.
A 50% booking fee is requested from all new clients making appointments for colour services. This  is requested at the point of consultation/skin test or over the phone within 48 hours of that skin test.
All colour services are finished off with a £10 Express Dry by one of our assistants. However, we do recommend that you pre book a blow dry or haircut with one of our stylists to show the best results of  your colour service.
At the point of booking, we also offer the option of a 'Silent Service' appointment', for those who prefer to relax, without the pressure or need to talk to their stylist.
We care deeply about our planet, and via our collaboration with Green Salon Collective, we aim to recycle or repurpose all waste produced during our working day. This includes your  hair, foil, chemical waste, metal tubes, cans, plastics and PPE. A Green Fee of £2 is added to each client's bill, as their contribution to the carbon footprint created by their hair appointment. Your support in this, is hugely appreciated
We aim to offer the best personal service and experience for each and every client when they visit us. Our clients come back time and time again, so we know that we're doing something right., but we're also humble enough to know, that we're only as good as your last visit…..
Our clients like us because…
Our team is:
• Welcoming, approachable, and accommodating
• Stylish, creative and unpretentious
• Highly professional and experienced

Our salon is:
• Calming and relaxing
• Great atmosphere
• Sustainable eco friendly environment
• Great central location
• Extended opening hours

Our services are:
• Biodynamic Cruelty free products
• Competitively priced
• Personable and tailored to your needs
• Consistent high quality

"The stylists are always receptive to my ideas about my hair, and at the same time they are so experienced that they give great advice."
"I can't ever see myself going to another hairdresser."
We look forward to welcoming you at The Point. If you'd like to book an appointment you can do so through our online appointments system or by calling 01273 693833 or 819538
At The Point we aim to send every client away, loving their new haircut. We believe that more than anything else, it means creating a shape that not only suits the individual, but it's also a look that they can recreate themselves.
We welcome any new clients, to book in a pre-booking consultation, in order that you feel that you're with the right stylist, and that you feel confident and comfortable at The Point.
All haircut appointments, begin with a thorough consultation, allowing time for you to share your ideas and pictures. Your stylist will listen, and then offer their own thoughts and suggestions to you.
We'll create a haircut that we believe is right for you, your personality, your hair type, your face shape and your lifestyle.
Our team of excellent stylists, are all individuals who work to the same high standards, and have a wide and varied range of techniques and ways of working to achieve a great result
We focus on style, precision and suitability, but also recognise that most clients want practical, low maintenance looks that last .
If your appointment also includes a colour service, this will be built into the consultation to ensure that both services complement one another beautifully.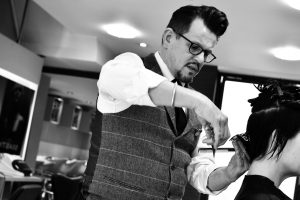 A great hair colour adds an extra dimension (The Wow) to any great haircut.
Prior to your first colour service at The Point, we are required to do a skin sensitivity test on you, at least 48 hours beforehand.
Please note: The skin test is also relevant if you haven't a colour service with us in the last six months
We also recommend that you book a complimentary, no obligation consultation at the same time, in order that you and your colourist feel confident, that you have both had the opportunity to discuss the options that will get you the best result for what you want to achieve
The condition of your hair is fundamental to the success of your colour, and to achieve the best possible, longest lasting result, we will be realistic and honest in our consultations, on promised result and price
Our colourists work with a great range of products, and apply the highest standards of technical ability, supported by regular ongoing training.
The team is headed by our Wella Master Colour Expert Sam Forrest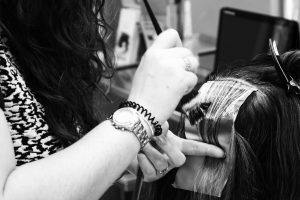 * Rebuilding
For hair damaged by excessive colouring , heat or environmental damage. It restores the hair's natural protein, nourishes, repairs and seals the hair cuticles, leaving the hair feeling soft and moisturised.
Key ingredients: Iris extract, Lavender oil, organic Basil extract, Basil essential oil, Amazonian butters and oils, and Vitamin E Forte.
* Moisturising
Provides long lasting hydration. Softening and nourishing every single strand of hair, and preventing split ends. Creating bouncier, more resistant and manageable hair, with long lasting hydration.
Key ingredients: Hazelnut extract, Honey extract, Macadamia oil, Murmuru butter and Soya proteins.
* Colour protection
Protects hair from oxidative stress and colour fade. Hydrating and polishing the cuticles, allowing maximum brilliance.and longer lasting colour.
Key ingredients: Red Grape Vine extract,Goji Berry extract, Kakadu Plum extract, Fire Tulip Tree, Arginine, Coconut and Babassu
* Silk'n Glow
Favours hair scale closure, eliminating frizz, çreating shine and brilliance. Your hair will be softer, silkier, more fluid and glowing
Key ingredients: Oat extract, Cupuacu butter, Brazilian nut oil, and Coconuter.