At The Point every single member of our team cares deeply about creating precise, stylish and long lasting hairstyles that will make you happy.
We set out to offer a great service and experience for individual clients each time they visit us. Our clients come back time and time again, so we are pretty sure we are doing something right.
Our clients like us because…

Our team is:
• Pleasant, polite, welcoming and friendly
• Stylish and creative
• Professional and efficient
Our salon:
• Is conveniently located
• Has a great atmosphere
• Is calming and relaxing
• Offers extended opening hours
Our services are:
• Competitively priced
• Personal and tailored to your needs
• Consistently high quality
"The stylists are always receptive to my ideas about my hair, and at the same time they are so experienced that they give great advice."
"I can't ever see myself going to another hairdresser."
We look forward to welcoming you to The Point. If you'd like to book an appointment you can do so through our online appointments system or by calling 01273 693833.
At The Point we know that an amazing hairstyle starts with an amazing haircut. Amazing can mean many things, but we believe that more than anything it means creating a cut that suits the individual.
We spend time on thorough, one-to-one consultations at the start of every appointment, allowing sufficient time to talk through what you want and what our experienced stylists think will work and look best. If your style involves colour, then we'll build this into the consultation.
We encourage you to bring your own ideas and examples, but in the end we'll only undertake a cut that we believe is right for your hair type and that will frame your face fabulously.
A great haircut has shape and texture. Whether your hair is short, long, straight or wavy, our well-qualified and experienced stylists will work with the right techniques for your hair to achieve a great result.
Not only do we focus on haircuts that are stylish, but we also recognise that most clients want practical, low maintenance styles that will last. Every haircut at The Point is precise and well executed, ensuring you leave with a style that you can replicate at home until it's time for your next appointment.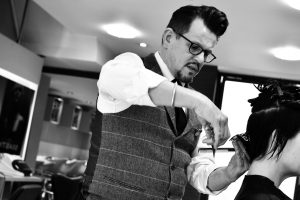 If an amazing hairstyle starts with an amazing haircut, then we believe that colour adds an extra dimension and can be used to create even greater impact.
At The Point we provide bespoke colour consultations that ensure colour builds on and enhances your haircut – adding the right colour in the right place to bring the haircut alive.
Subtle or dramatic, on-trend or classic, we have the experience and skill to create the look you want. We also pay close attention to the condition of your hair to ensure the best possible, longest lasting result.
Our colourists apply the highest standards of technical work that is based on ongoing training and mentoring with the Wella Technical Team. Our team is headed by two Wella Master Colour Programme graduates – Annita and Sam