Ian

Habben
Salon Director and Cutting Specialist
Ian created The Point in 1998. With forty years of industry experience working as a freelancer, salon owner and educator. As salon Art Director in London, he created looks in theatre, fashion shows and backstage at gigs, as well as styling for music videos and photo shoots. As a freelancer his work was featured in Vogue in 1992. He went on to become a member of the Fellowship of British Hairdressing. Ian also worked extensively in Denmark as part of an international education team.
He specialises in precision cutting and styling, preferring to work with the natural fall of the hair, enabling his clients to recreate the look themselves
Ian loves hairdressing! The continued learning ethos at The Point is driven by him, and after many years in the industry, still looks for experiences and opportunities in all areas of the industry to ensure he continues to develop his craft.
Ian is a family man, domestically and professionally, and loves seeing The Point's talented team grow in strength.
Ellie was really great. She always knows exactly what I mean when I describe what I'd like done and I've been really happy with my cut and colour. Thanks Ellie!
The best hairdresser I have had the pleasure of visiting. The salon is relaxing and very welcoming, Ian who cut my hair did a fantastic job! Thank you.
Sam

Forrest
Master Colour Expert and Senior Stylist
Sam has been with The Point since  2008, starting as an trainee and working her way up to Senior Stylist and Master Colour Expert
Although Sam's specialist skills are in colouring and technical work, her other areas of expertise are in cutting and hair-up; specialising in both wedding and party hair. Sam loves the broad diversity of work at The Point and really enjoys making people feel good.
She has trained on numerous courses in London with HOB, Wella  and Patrick Cameron, the hair up specialist. This focus on constant learning keeps Sam up to date with latest trends and techniques in hair.
Sam says, "I love that The Point has specialists in all areas to suit the varied clientele meaning that we can give a really bespoke service".
In her spare time Sam enjoys socialising and shopping and she has a passion for classic cars.
Jess

Wade
Master Colour Expert and Senior Stylist
Dana

Hoek
Senior Stylist/Colourist
Dana joined the team in December '19, and has grown to be a huge presence in the salon with her infectious enthusiasm and style.
With over ten years experience in the industry, and a variety of creative accolades under her belt, she and her work have been featured in some of the leading magazines in the hair and beauty industry.
In recent times she has been working her magic in London as part of the TIGI inspirational youth team, and also working closely with well known brands such as Wella.
With creative opportunities on various photo shoots, shows and seminars, as well as having a wealth of salon knowledge , Dana has the versatility, creativity and experience  in  colouring, cutting, barbering, styling and after care to create a look to suit everyone
Priscilla

Mills
Senior Stylist and Colourist
Priscilla joined us in 2014 -one of the great team players in the salon. She has worked in salons since the age of 14. The knowledge and experience that she has gained over those years have grown in to an admirable repertoire of skills that includes cutting, styling, colouring and creative up-dos.
Priscilla loves being creative, and takes the time and care to really listen to her client, to find out what they want to achieve –She then makes it happen!
''In hairdressing there is no greater reward, than making people feel good''.
She loves going to see live music, visiting galleries, museums, and theme and wildlife parks. She volunteers with the RSPCA and the Cat Protection Centre.
Pricilla's style is pop culture and she has a playground compendium of influences, which include weird tacky animal cartoon stuff. She confesses to owning a Teenage Mutant Ninja Turtle dress!
Jade

West
Stylist and Colourist
Mikey

Haill
Stylist and Colourist
Mikey has a background in  psychology and criminology, but after completing his studies,.decided to go into the creative role of hairdresser and stylist
Formerly from Colchester in Essex, he has lived and worked in Brighton for 8 years, , and loves to make the most  of living by the sea and residing in the busy North Laine.
Having worked in a couple of other salons around the North Laine area over a period of five years, Mikey joined The Point team  in January '19
Mikey's chair side manner is exemplary and infectious. Clients love him!
He is passionate about creating cuts and styles to fit the individuals needs and requirements. Especially those who prefer the wash and go,  low maintenance look!
Mikey is looking to do more creative cutting and styling and interested in helping people on their journey to achieve their perfect hair ideal. He enjoys both classic or creative cutting, working with the hair's natural texture and movement. and would love the opportunity to work on photo shoots and do editorial work.
He enjoys pushing his knowledge of hair, and finding innovative ways of helping the client understand and value their hair type and potential.
YoYo

Nikolova
Graduate Stylist and Colourist
Yoyo joined  the team  in February '19, and through investment in her development  by both the salon, and herself, She has attended many courses, and involved herself in a variety of projects, and as a result, has  grown into an amazing stylist, who is passionate about hair, and interested in every aspect of the industry.
Her consultations are fantastic! A great listener,  she gives each one of her clients her undivided attention, offering suggestions on cut. colour and styling options
A creative  soul, who in her free time , enjoys her friends company, loves dancing and is always hungry to learn more about her craft(hairdressing)
She also has a creative sideline, and making bags and accessories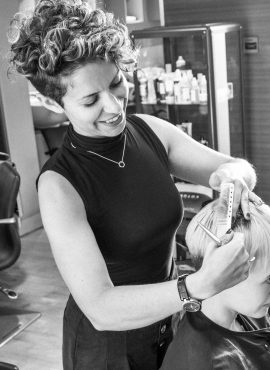 Martina joined us in July '18 as an apprentice, and has grown to be a hugely popular member of the team. With her welcoming personality and smile, she is a huge asset to The Point
Currently studying her NVQ Level 3, and ever hungry to learn any new creative cutting or colour techniques, she has attended many courses in London with Wella, and last year reached the final of The Fantastic Hairdresser Awards in the Future Star category.
Martina's talents aren't only in cutting and colouring. She also excels at hair ups and braiding, and is passionate about all aspects of the hairdressing industry.
She is also very talented in languages , speaking her native tongue, Bulgarian and Spanish . In her spare time  she loves socialising with friends and dancing
Pringle
Apprentice Hairdresser
Pringle started working with us in October '19, and is studying her NVQ Level 2 in hairdressing. She is an enthusiastic creative force in the team, who has found a love and fascination for editorial hairstyling, and would dearly love her career to develop in the direction of session styling in the future.
After graduating from a Dance Theatre degree in Plymouth, She developed an interest in drag performance and creative make up. This is something she continues to do, alongside her hairdressing.
Pringle strives to put all of her creativity into her hairdressing , aiming to produce bold and daring creations.
A star in the making!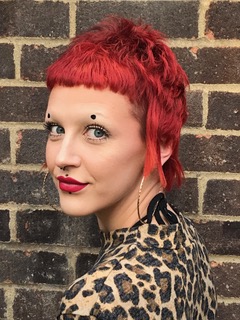 Lucy

Bish
Apprentice Hairdresser
Maddie

Tapp
Apprentice Hairdresser