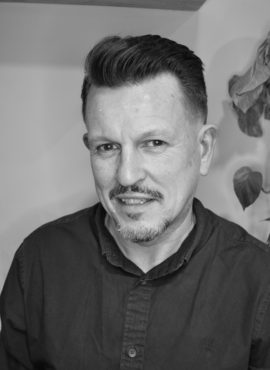 Ian

Habben
Salon Director and Cutting Specialist He/him
Ian is originally from North London, and set up The Point in 1998. He has been in the  hairdressing industry for over forty years
Initially working his way up in London salons, from apprentice to Art Director, working in theatre, fashion shows, doing hair backstage at gigs, as well as styling for music videos and a variety of photo shoots. It was one of his proudest moment in 1992, when he was featured in Vogue, for his freelance work in, and around London and Brighton.
He also worked extensively in Denmark as part of an international education team, creating and teaching  techniques on stage, in books, and on DVD's.
He moved to Brighton in the early 80's, setting up his first salon  in 1985, Power Cuts. An amazing success and adventure, that lasted three years, and a huge learning curve for what would eventually help shape the ethos of The Point
Ian's craft is precision cutting and styling. Preferring to work with the natural fall and texture of  hair. Always focusing on creating shapes that flatter the face shape, ensuring  that the final look, is one that his clients can recreate themselves at home.
The continued learning ethos at The Point is driven and encouraged by him, and after many years in the industry, he still looks for experiences and opportunities in all areas to ensure he continues to develop his craft.
Outside of work, Ian's other passion, has always been music, and especially live gigs. He also enjoys the arts, especially photography, cycling , hill walking, good food and drink, and sharing time with friends and family.
He is a family man, domestically and professionally, and very proud of the team at The Point.
Sam

Forrest
Master Colour Expert and Senior Stylist She/her
Sam has been part of The Point since  2008, starting as a trainee and working her way up to Senior Stylist and Master Colour Expert
Although her specialist skills are in colour and technical work, she is also amazing at cutting and styling. Her loyal clientele testament to that. She has great technique in all areas of her work. Hair ups  for special occasions including weddings, are another skill that she has mastered.
Above all. Sam is a great role model and educator for the rest of the team , and continues to inspire on her training nights
She loves the broad diversity of her work at The Point and really enjoys making people feel and look great.
She has attended numerous training courses in London with HOB, Wella  and Patrick Cameron. Maintaining her focus on constant learning keeps Sam up to date with latest trends and techniques in hair.
Sam loves the fact that The Point has specialists in all areas, to suit the varied and diverse client base. Enabling us to offer a truly bespoke service to each and every client. 
In her time away from the salon, Sam enjoys spending time with her family, socialising and shopping , plus she has a passion for classic cars!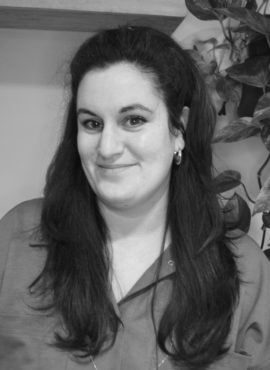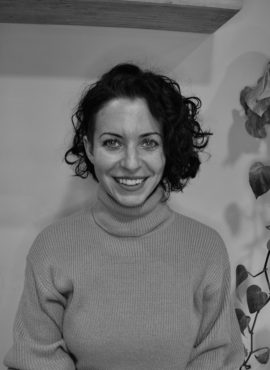 Yoyo

Nikolova
Stylist and Colourist She/her
Yoyo joined us in 2019, and has risen rapidly to become an established member of the team, plus an amazing stylist and colourist.
She has a passion for learning, both professionally and personally, attending many courses, and involving herself in many projects.
Creative hair ups and braiding are amongst her many talents
She is passionate about hair, and interested in all aspects of the industry.
Such a great role model for the younger members of the team, and always more than happy to support others on the salon floor
Yoyo's clients love her! Her consultations are fantastic, making new clients feel comfortable, and she is a great listener.  She gives each one of her clients her undivided attention, offering suggestions on cut. colour and styling options
A creative soul, who in her free time , enjoys her friends company, loves dancing, good food and travel
Yoyo also has a creative sideline. Making bags, accessories, and knitting.
Above all she is always hungry to learn more about her craft(hairdressing)
Martina

Petrova
Stylist and Colourist She/her
Martina joined us in 2018 as an apprentice, and has rapidly grown to be an amazing  Graduate stylist.
She is hugely popular, with her welcoming personality and smile. Such a huge asset to The Point team, a great role model, and her clients love her!
Martina is extremely talented in both cutting and colouring, and also excels in hair ups and braiding,.
Her consultations and customer care are the best!  She is a perfectionist in her craft, and so passionate about all aspects of the hairdressing industry,
Always hungry to learn any new creative cutting or colour techniques, she has attended many training courses.
She is  also very talented in languages , speaking her native Bulgarian and Spanish. In her spare time she loves socialising with friends, good food, and dancing
In 2019 she  reached the final of The Fantastic Hairdresser Awards in the Future Star category.
She has now become that star!
Holly

Mcdonald
Stylist and Colourist She/her
Holly is passionate about her hairdressing, and ever hungry to gain more knowledge and become more expert in all areas of her craft. She absolutely loves the dressing of hair, and especially creating up do's for special occasions, or festival hair.
Creating hair for photo shoots, and editorial/fashion work is also something she would love to get more involved in.
In her down time, Holly is very sociable, loves to draw and paint, and is generally an all round creative soul, inspired by travelling, people and fashion.
Maddie

Tapp
Apprentice Hairdresser She/her
Maddie joined us in July 2020, and qualified, earlier this year, in her NVQ level 2.
She is hungry and enthusiastic to learn all aspects of the industry, has loads of questions, and keeps the rest of us on our toes!
She loves learning new techniques, styling tips and colour mixes. She is always finding new ideas in magazines and online.
In her free time she loves going out with her friends.
Maddie also has immense musical talent, and has toured with the band that she performs in, playing saxophone? She can also play the piano and sing.
Keely

Cottrell
Apprentice Hairdresser She/her